Recovering previous editor state
Posted By Yair Altman On January 11, 2012 | 22 Comments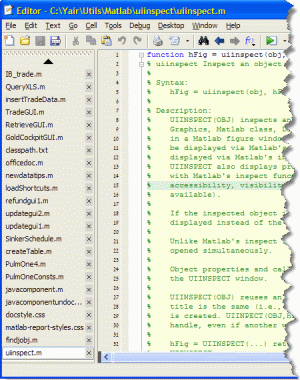 I find it very useful to use the Matlab editor's ability to load multiple files to help me remember which files I still need to work on. I typically have a few dozen files loaded in the editor. I guess you could say that the editor's list of files is a simple reflection of my open tasks. It would be extremely inconvenient if I ever lost this list.
Which is, unfortunately, exactly what happened to me yesterday.
I was about to close a figure window and accidentally closed the editor window that was behind it.
I was now in quite a jam: reopening the editor would not load all my files, but start with a blank (empty) editor. The Matlab editor, unlike modern browsers, does not have a 'reopen last session' option, and using the most-recently-used (MRU) files list would at best return the latest 9 files (the default Matlab preference is to have an MRU depth of only 4 files, but this is one of the very first things that I change whenever I install Matlab, along with a few other very questionable [IMHO] default preferences).
Luckily for me, there is an escape hatch: Matlab stores its Desktop windows state in a file called MATLABDesktop.xml that is located in the user's prefdir folder. This file includes information about the position and state (docked/undocked etc.) of every Desktop window. Since the editor files are considered Desktop documents (you can see them under the Desktop's main menu's Window menu), they are also included in this file. When I closed the Editor, these documents were simply removed from the MATLABDesktop.xml file.
It turns out that Matlab automatically stores a backup version of this file in another file called MATLABDesktop.xml.prev, in the same prefdir folder. We can inspect the folder using our system's file browser. For example, on Windows we could use:
So before doing anything else, I closed Matlab (I actually crashed it to prevent any cleanup tasks to accidentally erase this backup file, but that turned out to be an unnecessary precaution), deleted the latest MATLABDesktop.xml file, replaced it with a copy of the MATLABDesktop.xml.prev file (which I renamed MATLABDesktop.xml), and only then did I restart Matlab.
Problem solved – everything back to normal. Resume breathing. Once again I have my never-ending virtual task list in front of me as I write this.
Lessons learned:
don't be too quick on the close button trigger
always keep a relatively recent backup copy of your important config files (BTW, I use the same advice with my FireFox browser, where I normally have dozens of open tabs – I keep a backup copy of the sessionstore.js file)
if you do get into a jam, don't do anything hasty that might make recovery impossible. Calm down, look around, and maybe you'll find an automatic backup somewhere
Categories: Desktop, Low risk of breaking in future versions, Undocumented feature
---
Article printed from Undocumented Matlab: https://undocumentedmatlab.com
URL to article: https://undocumentedmatlab.com/blog/recovering-previous-editor-state
URLs in this post:
[1] Image: http://undocumentedmatlab.com/feed/
[2] email feed: http://undocumentedmatlab.com/subscribe_email.html
[3] Setting desktop tab completions : https://undocumentedmatlab.com/blog/setting-desktop-tab-completions
[4] Class object tab completion & improper field names : https://undocumentedmatlab.com/blog/class-object-tab-completion-and-improper-field-names
[5] Another couple of Matlab bugs and workarounds : https://undocumentedmatlab.com/blog/couple-of-matlab-bugs-and-workarounds
[6] User-defined tab completions – take 2 : https://undocumentedmatlab.com/blog/user-defined-tab-completions-take-2
[7] Image Easter egg : https://undocumentedmatlab.com/blog/image-easter-egg
[8] Customizing Workspace context-menu : https://undocumentedmatlab.com/blog/customizing-workspace-context-menu
[9] : http://www.mathworks.co.uk/matlabcentral/fileexchange/34577-savecurrenteditorfiles
[10] : http://undocumentedmatlab.com/blog/accessing-the-matlab-editor/
[11] : http://www.mathworks.com/matlabcentral/fileexchange/46352-editor-session-manager
Click here to print.