In the past two weeks I explained how HG2 (in R2014b) enables us to customize the axes rulers [1], baselines, box and grid-lines [2] in ways that were previously impossible in HG1 (R2014a or earlier). Today I will describe another useful undocumented property of the HG2 axes – Backdrop.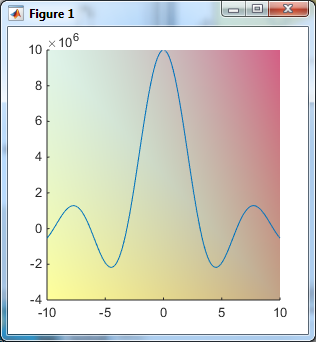 Backdrop
The axes' Backdrop property (a matlab.graphics.axis.decorator.Backdrop object) controls the background color of the axes' content area. This is normally white, but can be set to any color, including translucency:

% Create the plot
x = -10:0.1:10;
y = 1e7*sin(x)./x;
hLine = plot(x,y);
hAxes = gca;
box('off');
% Set a light-yellow backdrop
hAxes.Backdrop.FaceColor = [1, 1, 0, 0.4];

By default,
Backdrop
spans the entire (rectangular) axes content area. But we can customize its vertex points using the
Face.VertexData
property, which accepts an array of 3xN
single
s:

% Note: VertexData is specified in normalized (0-1) units, not data units
hAxes.Backdrop.Face.VertexData = single([0,1,0.8,0; 0,0.43,0.75,1; 0,0,0,0]);  % default: [0,1,1,0; 0,0,1,1; 0,0,0,0]
>> hAxes.Backdrop.Face.get
             AmbientStrength: 0.3
             BackFaceCulling: 'none'
                ColorBinding: 'object'
                   ColorData: [4x1 uint8]
                   ColorType: 'truecoloralpha'
             DiffuseStrength: 0.6
            HandleVisibility: 'off'
                     HitTest: 'off'
                       Layer: 'back'
               NormalBinding: 'none'
                  NormalData: []
                      Parent: [1x1 Backdrop]
               PickableParts: 'all'
    SpecularColorReflectance: 1
            SpecularExponent: 10
            SpecularStrength: 0.9
                   StripData: []
                     Texture: []
            TwoSidedLighting: 'off'
                  VertexData: [3x4 single]
               VertexIndices: []
                     Visible: 'on'

The down side is that whenever we modify anything in the axes (or even get some axes property values), Face.VertexData is reset back to its default value of [0,1,1,0; 0,0,1,1; 0,0,0,0], so we need to either update it in a timer and/or in a property listener.
We can create a tint (gradient color) effect by setting the Face.ColorData property to match the vertex points and modifying Face.ColorBinding from the default 'object' to 'interpolated' (other alternative values are 'discrete' and 'none'):

colorData = uint8([255, 150, 200, 100; ...  % instead of [255;255;0;102] = light-yellow
                   255, 100,  50, 200; ...
                     0,  50, 100, 150; ...
                   102, 150, 200,  50]);
set(hAxes.Backdrop.Face, 'ColorBinding','interpolated', 'ColorData',colorData);

The tint effect does not rely on the vertex – we can set a tinted background for the entire content area by modifying
Face.ColorData
without modifying the vertexes: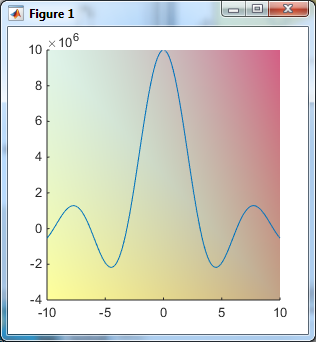 Using a patch
Of course, one could say that using Backdrop is not much better than creating a patch that has the specified vertex points and colors. For example (note that Backdrop has different color and vertex units than a patch):

% Create a patch to replace the backdrop
cdata = [255, 150, 200, 100; ...
         255, 100,  50, 200; ...
           0,  50, 100, 150 ...
        ]' / 255;  % alpha values are not directly accepted by patch CData
vertexData = [0,1,0.8,0; 0,0.43,0.75,1];  % in normalized units
xdata = hAxes.XLim(1) + diff(hAxes.XLim)*vertexData(1,:);  % in data units
ydata = hAxes.YLim(1) + diff(hAxes.YLim)*vertexData(2,:);  % in data units
hPatch = patch(xdata, ydata, 'k', 'Parent',hAxes, 'EdgeColor','none', ...
               'FaceVertexCData',cdata, 'FaceColor','interp', ...
               'FaceVertexAlpha',[102;150;200;50]/255, 'FaceAlpha','interp');

This results in a gradient very similar to the Backdrop, although not exactly the same. Perhaps the color interpolation for Backdrop is different than for patches, or maybe I just made a mistake somewhere above…

I don't have a good answer as to why MathWorks chose to add the
Backdrop
property to HG2 axes and what advantage it might have over a separate
patch
. If anyone has an idea, please post a comment below. We can be pretty sure that this was discussed at MathWorks, since Michelle Hirsch, who heads Matlab product development at MathWorks, posted a
utility
[3]
that implements a
patch
-based gradient backdrop back in 2010 and has recently rehosted it on GitHub:
Next week, I will conclude the mini-series on axes customizations by describing some additional undocumented axes features.
Categories: Handle graphics, Medium risk of breaking in future versions, Stock Matlab function, Undocumented feature