In last week's report about uitable sorting, I offered a report that I have written which covers uitable customization in detail. Several people have asked for more details about the contents of this report. This is a reasonable request, and so in today's post I will discuss in a bit more detail the highlights of what can be achieved to customize Matlab uitables. For the fine details, well, get my uitable report (45 pages PDF, $29).
1. Introduction
Here I discuss the evolution of the uitable control over the past decade, from its initially semi-documented status to today. I explain the similarities and differences between the control's versions and explain how they can both be accessed today.
I also provide references to online resources for both Matlab's uitable's underlying Java components, as well as multiple alternatives using different technologies, that have been used and reported over the years.
2. Customizing uitable
In this section I explore the sub-component hierarchy of the uitable controls. I show how the scrollbar sub-components can be accessed (this will be used in section 4 below), as well as the table header and data grid. This is the entry point for uitable customization.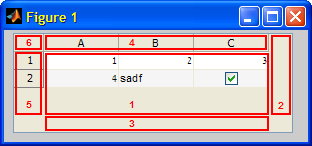 I explain how individual cells can be modified without requiring the entire data set to be updated. This is very important in large data sets, to prevent flicker and improve performance.
I show how HTML can be used to format data cell contents (even images) and tooltips: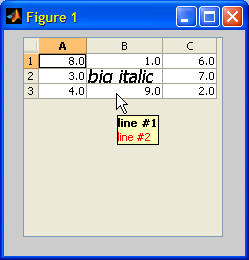 3. Cell renderers and cell editors
This section explains the role of the cell-renderer in the visual appearance of the cell, and of cell-editors in the way that cells interact with the user for data modification. I explain such customizations from the simple (setting a column's background color) to the complex (cell-specific tooltips and colors; color-selection cell-editor):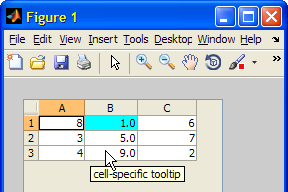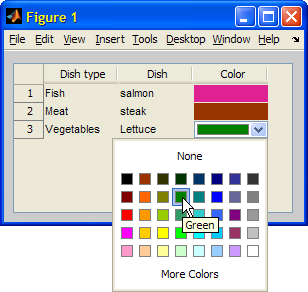 Cell renderers can also be used to set custom text format of cell contents and cell-specific tooltips (note the top table in the following screenshot):
(also note the colored table headers in the bottom table)
4. Table callbacks
This section of my uitable report presents the different callback properties that are settable in the old and new uitable, for events such as cell selection, data modification, key press, and mouse click. The discussion includes a working code example for validating user input and reverting invalid edits.
The section also includes a discussion of how to avoid and overcome problems that may occur with the callback execution.
5. Customizing scrollbars, column widths and selection behavior
This section explains how to control the scrollbars behavior. For example, hiding the horizontal (bottom) scrollbar, automatically displaying it when the data width is larger than the table width. I also show how to control the column widths.
I then show how to customize the data selection policy: Can multiple cells be selected? perhaps only one cell at a time? or maybe a single large interval of cells? – this is all customizable. I then explain how the selection can be done and accessed programmatically.
Ever wanted to set the cursor on cell A1 after some system event has occurred? – this will show you how to do it.
Ever wanted to use non-standard selection colors (background/foreground)? – this can also be done.
6. Data sorting
Table sorting was discussed in last week's article. This section expands on that article, and explains how the sorting can be customized, controlled, and accessed programmatically, and how sorted rows can be retrieved by the user.


7. Data filtering
Data filtering is the ability to filter only a specified sub-set of rows for display (just like in Excel). This section explains how to do it (it's so easy!).


8. JIDE customizations
The new uitable is based on an underlying JIDE table. This section explains how we can use this to our advantage for some simple and useful. Customization.
For example: have you wondered some time why is it that columns can only be resized by dragging the tiny divider in the table header? Why can't the columns and rows be resized by dragging the grid lines? Well, it turns out that they can, with just a tiny bit of JIDE magic powder, explained here:


Similarly, this section explains how we can use JIDE to merge together adjacent cells:

I also show how to attach a custom context-menu (right-click menu) to the table header row: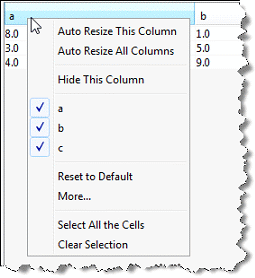 9. Controlling the table structure (adding/removing rows)
This section discusses the matter of dynamically adding and removing table rows. While this is easy to do in the old uitable, this is unfortunately not the case in the new uitable.
10. Run-time performance
This section discusses ways to improve the run-time performance (speed) of uitable, both new and old. For additional information regarding run-time performance, refer to my book "MATLAB Performance Tuning".
11. Final remarks
Here I present a workaround for a long-time table bug. Also, I present my createTable utility that wraps table creation in Matlab: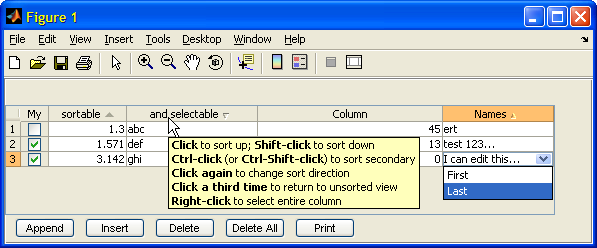 Appendix – JIDE Grids
Finally, this appendix presents an overview of the wide array of components provided by JIDE and available in Matlab. uitable uses only one of these components (the SortableTable). In fact, there are many more such controls that we can use in our GUIs.
These include a wide selection of combo-box (drop-down) controls – calculator, file/folder selection, date selection, color selection, multi-elements selection etc.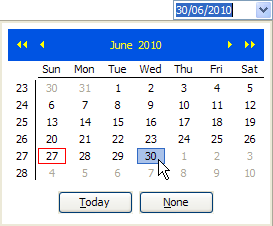 In addition, a very wide selection of lists, trees and table types is available.

Also included is a set of specialized editbox controls for accepting IP addresses and credit card numbers:


While not explaining all these controls in detail (this could take hundreds of pages), this section does say a few words on each of them, and includes links to online resources for further exploration.