Most GUI windows nowadays, ranging from web browsers to editors and data-entry windows, have a small status-bar at their bottom. Statusbars are a great way to convey non-critical information to the user, in a non-intrusive manner (without popup windows).
Matlab windows are no exception: they too have status bars which are sometimes used by internal Matlab functions. Unfortunately, there is no documented way to modify Matlab statusbars. In this post I will demonstrate the undocumented way of setting status-bar text, which is probably the most useful use-case. In next week's post, I will expand this to include more complex customizations, such as dynamic progress-bars or a corner grip.
Note: Users interested in non-intrusive status-bar messages, may also be interested in another non-intrusive messaging mechanism which I have described some months ago: Setting system tray popup messages.
Desktop window status-bar
We start with the simplest case of setting the desktop's statusbar text. We have no further to go than the bottom of Matlab's own uiopen (see %matlabroot%/toolbox/matlab/uitools/uiopen.m):
dt = javaMethod

(

'getInstance'

, 

'com.mathworks.mde.desk.MLDesktop'

)

;


if

 dt.

hasMainFrame


    dt.

setStatusText

(

message

)

;


else


    

disp

(

message

)

;


end
Basically, we try to get the Java reference to the Matlab desktop, see if it has an open window frame and if so then we use its setStatusText() method to display a text message; if not then we display the message in the Command Window (which is probably a non-window console).
Unfortunately, if we place this code in our m-files as-is, our status message will be overridden by Matlab's "busy" message. A solution for this is to use a one-time (discardable) timer. Another complication is meant for supporting Matlab 6, in which we get the desktop reference differently, and which did not yet have the timer function. The final code now looks like this:
%% Set the status bar text of the Matlab desktop




function

 setDesktopStatus

(

statusText

)


  

% First, get the desktop reference


  

try


    desktop = com.

mathworks

.

mde

.

desk

.

MLDesktop

.

getInstance

;     

% Matlab 7+


  

catch


    desktop = com.

mathworks

.

ide

.

desktop

.

MLDesktop

.

getMLDesktop

; 

% Matlab 6


  

end


  

if

 desktop.

hasMainFrame


    

% Schedule a timer to update the status text


    

% Note: can't update immediately (will be overridden by Matlab's 'busy' message)


    

try


      timerFcn = 

{

@setText,desktop,statusText

}

;
      t = timer

(

'TimerFcn'

,timerFcn, 

'StartDelay'

,

0.05

, 

'ExecutionMode'

,

'singleShot'

)

;
      start

(

t

)

;
    

catch


      

% Probably an old Matlab version that still doesn't have timer


      desktop.

setStatusText

(

statusText

)

;
    

end


  

else


    

disp

(

statusText

)

;
  

end




%% Utility function used as setDesktopStatus's internal timer's callback




function

 setText

(

varargin

)


  

if

 

nargin

 == 

4

  

% just in case...


    targetObj  = 

varargin

{

3

}

;
    statusText = 

varargin

{

4

}

;
    targetObj.

setStatusText

(

statusText

)

;
  

else


    

% should never happen...


  

end
Figure window status-bar
Setting the status-bar text on figure windows is slightly more difficult: getstatus and setstatus appear to be early attempts by Matlab to enable users an access to a figure's statusbar. In this early attempt, Matlab assumes that the user prepares a text label having a tag of 'status'. getstatus then returns this label's string, while setstatus modifies it:
uicontrol

(

'Parent'

,

gcf

,

'Style'

,

'text'

,

'Tag'

,

'Status'

)

;
setstatus

(

gcf

, 

'Goodbye'

)

;
string = getstatus

(

gcf

)

;
Unfortunately, nothing prevents the user from placing the label anywhere in the figure, and also from having multiple such labels at once, adding to the confusion. The result is inconsistent with normal windowing practices, and this is probably the reason that MathWorks have grandfathered these functions in Matlab 7.4 (R2007a). It would be much more logical for Matlab to have the statusbar accessible via a figure property, and perhaps this will happen in some future version.
A better, consistent and more flexible access to the figure statusbar can be achieved by using some undocumented Java functions. In a nutshell, we get the figure's JavaFrame property (which Matlab has warned might be discontinued in some near upcoming release), which is sort of a handle reference to the Java window underlying the Matlab figure window (not exactly but close enough for today). We then travel up and down the JavaFrame window objects hierarchy (use my FindJObj utility on the File Exchange to understand this hierarchy) until we get to the status bar object. We then set its text and make it visible (it's invisible by default). Here is a trimmed-down version (excluding the necessary sanity checks, exception handling etc.):
% Alternative #1 (hFig = requested figure's handle)


jFrame = 

get

(

hFig,

'JavaFrame'

)

;
jFigPanel = 

get

(

jFrame,

'FigurePanelContainer'

)

;
jRootPane = jFigPanel.

getComponent

(

0

)

.

getRootPane

;
jRootPane = jRootPane.

getTopLevelAncestor

;
statusbarObj = jRootPane.

getStatusBar

;
statusbarObj.

setText

(

statusText

)

;
jRootPane.

setStatusBarVisible

(

1

)

;


% Alternative #2


jFrame = 

get

(

hFig,

'JavaFrame'

)

;
jRootPane = jFrame.

fFigureClient

.

getWindow

;
statusbarObj = com.

mathworks

.

mwswing

.

MJStatusBar

;
jRootPane.

setStatusBar

(

statusbarObj

)

;
statusbarObj.

setText

(

statusText

)

;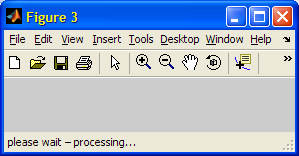 StatusBar utility
I've created a wrapper function, aptly called statusbar, encapsulating all the above with some additional error checking etc. I have posted statusbar on the MathWorks File Exchange. Readers are encouraged to look at this submission's source code for examples of statusbar manipulation. Here are several usage examples: