Matlab 7.6 (R2008a) and onward contain a reference to uisplittool and uitogglesplittool in the javacomponent.m and %matlabroot%/bin/registry/hg.xml files. These are reported as built-in functions by the which function, although they have no corresponding m-file as other similar built-in functions (note the double 't', as in split-tool):
>> 

which

 uisplittool
built-in 

(

C:\Matlab\R2010b\toolbox\matlab\uitools\uisplittool

)
These uitools are entirely undocumented, even today (R2010b). They puzzled me for a very long time. An acute reader (Jeremy Raymonds) suggested they are related to toolbars, like other uitools such as the uipushtool and uitoggletool. This turned out to be the missing clue that unveiled these useful tools:
So what are uisplittool and uitogglesplittool?
Both uisplittool and uitogglesplittool are basic Handle-Graphics building blocks used in Matlab toolbars, similarly to the well-documented uipushtool and uitoggletool.
uisplittool presents a simple drop-down, whereas uitogglesplittool presents a drop-down that is also selectable.
The Publish and Run controls on the Matlab Editor's toolbar are examples of uisplittool, and so are the Brush / Select-Data control on the figure toolbar, and the plot-selection drop-down on the Matlab Desktop's Workspace toolbar: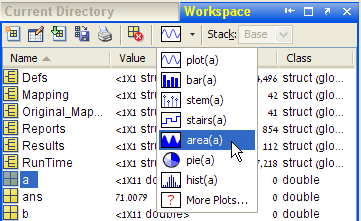 Adding uisplittool and uitogglesplittool to a toolbar
Adding a uisplittool and uitogglesplittool to a toolbar is done in a similar manner to adding uipushtools and uitoggletools:
hToolbar = findall

(

gcf

,

'tag'

,

'FigureToolBar'

)

;
hUndo=uisplittool

(

'parent'

,hToolbar

)

;       

% uisplittool


hRedo=uitogglesplittool

(

'parent'

,hToolbar

)

; 

% uitogglesplittool
Like uipushtool and uitoggletool, uisplittool and uitogglesplittool also have unique Type property values, 'uisplittool' and 'uitogglesplittool' respectively. The handles can also be tested using the built-in isa function:
>> 

isa

(

handle

(

hUndo

)

,

'uisplittool'

)

   

% or: 'uitogglesplittool'




ans

 =
     

1


>> 

class

(

handle

(

hUndo

)

)




ans

 =
uisplittool
Just as with uipushtools and uitoggletools, the new buttons have an empty button-face appearance, until we fix their CData, Tooltip and similar settable properties:
% Load the Redo icon


icon = 

fullfile

(

matlabroot

,

'/toolbox/matlab/icons/greenarrowicon.gif'

)

;


[

cdata,map

]

 = 

imread

(

icon

)

;


% Convert white pixels into a transparent background


map

(

find

(

map

(

:,

1

)

+map

(

:,

2

)

+map

(

:,

3

)

==

3

)

)

 = 

NaN

;


% Convert into 3D RGB-space


cdataRedo = ind2rgb

(

cdata,map

)

;
cdataUndo = cdataRedo

(

:,

[

16

:-

1

:

1

]

,:

)

;


% Add the icon (and its mirror image = undo) to latest toolbar




set

(

hUndo, 

'cdata'

,cdataUndo, 

'tooltip'

,

'undo'

,

'Separator'

,

'on'

, 

...


           

'ClickedCallback'

,

'uiundo(gcbf,'

'execUndo'

')'

)

;


set

(

hRedo, 

'cdata'

,cdataRedo, 

'tooltip'

,

'redo'

, 

...


           

'ClickedCallback'

,

'uiundo(gcbf,'

'execRedo'

')'

)

;

Note that the controls can be created with these properties in a single command:
hUndo = uisplittool

(

'parent'

,hToolbar, 

'cdata'

,cdataRedo, 

...

)

;
Re-arranging the toolbar controls placement
Let us now re-arrange our toolbar buttons. Unfortunately, a bug causes uisplittools and uitogglesplittools to always be placed flush-left when the toolbar's children are re-arranged (anyone at TMW reading this in time for the R2011a bug-parade selection?).
So, we can't re-arrange the buttons at the HG-children level. Luckily, we can re-arrange directly at the Java level (note that until now, the entire discussion of uisplittool and uitogglesplittool was purely Matlab-based):
jToolbar = 

get

(

get

(

hToolbar,

'JavaContainer'

)

,

'ComponentPeer'

)

;
jButtons = jToolbar.

getComponents

;


for

 buttonId = 

length

(

jButtons

)

-

3

 : -

1

 : 

7

  

% end-to-front


   jToolbar.

setComponentZOrder

(

jButtons

(

buttonId

)

, buttonId+

1

)

;


end


jToolbar.

setComponentZOrder

(

jButtons

(

end-

2

)

, 

5

)

;   

% Separator


jToolbar.

setComponentZOrder

(

jButtons

(

end-

1

)

, 

6

)

;   

% Undo


jToolbar.

setComponentZOrder

(

jButtons

(

end

)

, 

7

)

;     

% Redo


jToolbar.

revalidate

;

Next week, I will combine the information in this article, with
last year's articles
about
uiundo
, and show how we can create a dynamic figure toolbar drop-down of undo/redo events. Here is a preview to whet your appetite: