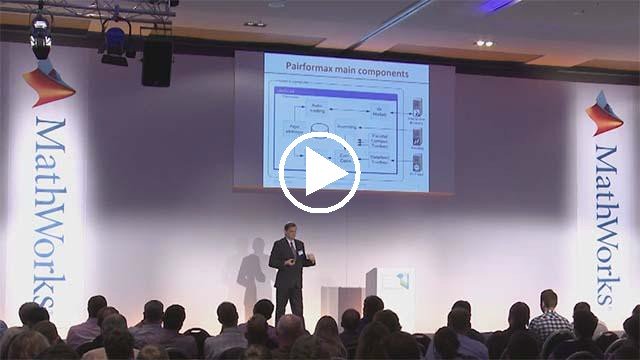 My Matlab Expo 2016 keynote presentation (32:45)(Matlab Expo 2017 presentation will be different)
MathWorks were very kind to invite me to speak at the upcoming annual Matlab Expo in Bern, Switzerland, on June 22, 2017 at 15:30. My presentation will be about "MATLAB Tricks You Need to Know".
I also presented at last year's Expo in Munich (you can see the video on the right). So in order not to bore the audience, my presentation this year will be completely different – it will not focus on any single program or industry, but instead provide content that should be relevant to a large portion of Matlab users.
My presentation will highlight several simple-to-use tips and tricks that can improve Matlab program usability and performance, and Matlab programming productivity in general. My aim is to show that Matlab can be used to create professional-quality applications, without sacrificing Matlab's benefits (RAD, functionality, reliability), and that Matlab is certainly relevant for serious user-facing applications, not just for prototyping and internal organizational use.
I am targeting the presentation at anyone who uses Matlab, with any level of experience. Many of the tricks will be easy enough to use that even novice users could benefit, and some tricks might be useful even to advanced users. All these tricks are simple to understand, and yet very effective for improving run-time performance and visualization quality.
Participation in the Bern Expo is free, please don't hesitate to come. If you're considering it, then you might also be interested in my Advanced Matlab seminars in Zurich earlier that same week, on June 19-20.
If you are in the area and wish to meet me to discuss how I could bring value to your work, then please email me (altmany at gmail) to coordinate a meeting. We could meet either at the Expo, or in a dedicated (private) meeting.
Update June 23, 2017: I am extremely disappointed to report that my presentation at the Matlab Expo in Bern yesterday was not video-recorded. I thought that it went quite well so this makes me very sad. Anyway, you can see my presentation slides here. It doesn't contain all the explanations and extra details that I communicated verbally, but I think that it might still be useful as-is. I hope you find it beneficial!