Can you guess which built-in Matlab function is the top search-term on UndocumentedMatlab.com and yet one of the least discussed topic on the CSSM forum?
The answer is uitree – Matlab's built-in function for displaying data in a hierarchical (tree) GUI component. uitree has been included in all Matlab 7 releases, but has never been officially supported. Like most other uitools in the %matlabroot%/toolbox/matlab/uitools/ folder, uitree and its companion uitreenode are semi-documented, meaning that they have no support or doc-page, but do have readable help sections within their m-files. In our case, edit the uitree.m and uitreenode.m files to see their help section.
Note the following comment within %matlabroot%/toolbox/local/hgrc.m, which implies that uitree may soon become fully supported, although its interface might change somewhat (as was the case when uitable became supported in R2008a):
Temporarily turn off old uitree and uitreenode deprecated function warning… When we introduce the new documented uitree to replace the old undocumented uitree …
Like most other uitools (e.g. uitable and uitab), uitree is based on an underlying Java component, which ultimately extends Swing's standard JTree. uitree sets up a scrollable JTree on-screen without the hassle of setting up a scrollable viewport and other similar nuts and bolts. In fact, you don't need to know any Java to use uitree (although knowing JTree can greatly help you customize it) – uitrees can be manipulated using pure Matlab code, as shall be seen below.
uitree accepts an optional figure handle followed by P-V (property-value) pairs. Settable properties are Root, ExpandFcn, SelectionChangeFcn, Position (also Parent, but read on). As in uitab, a 'v0' input argument may be necessary to suppress a warning message. Note that uitrees are always created as a direct child of the containing figure, ignoring creation-time Parent values. However, the Parent property can be modified following the tree's creation:
[

mtree, container

]

 = uitree

(

'v0'

, 

'Root'

,

'C:\'

, 

'Parent'

,hPanel

)

; 

% Parent is ignored




set

(

container, 

'Parent'

, hPanel

)

;  

% fix the uitree Parent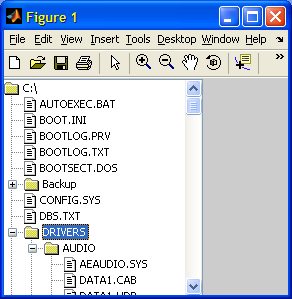 uitree
returns two arguments: a handle to the created tree (a Java object wrapped within a Matlab handle) and an entirely-undocumented second optional argument holding a handle to the Matlab GUI container of the created tree. These two arguments are exactly the two arguments returned from the
javacomponent
function that I described
last week
.
uitreenode
uitree automatically understands Root objects of type Handle Graphics, Simulink model or char string (interpreted as a file-system folder name). Other Root types require setting dedicated ExpandFcn, SelectionChangeFcn Matlab callbacks (see uitree's help section or below for examples).
If we need to create a custom tree hierarchy (i.e., our root node is not an HG object, Simulink model or folder name), then we need to use the semi-documented uitreenode function as follows:
node = uitreenode

(

'v0'

,handle

(

mtree

)

,

'my root'

,

'c:\root.gif'

,false

)

;
mtree.

setRoot

(

node

)

;


set

(

mtree,

'Root'

,node

)

;  

% alternative to mtree.setRoot()
uitreenode accepts 4 arguments: a string or handle value (the node's "internal" value), a string description (shown next to the node's icon), an icon filename ([] will result in an icon assigned based on the node value), and a flag indicating whether the node is a leaf (no children) or not.
uitreenode returns a node object, which is little more than a Matlab handle wrapper for a Java Swing DefaultMutableTreeNode.
Node manipulation
Nodes can be added, moved or removed by node methods: node.add(anotherNode) adds anotherNode to the end of this node's children list (possibly detaching it from its previous parent); node.insert(anotherNode,index) does the same but inserts anotherNode at a specific child index, rather than at the end; node.clone() makes a duplicate of this node that can then be added to another node; node.remove(index) and node.remove(node) remove a specific node whereas node.removeFromParent() removes this node; node.removeAllChildren() removes all children, if any, of this node.
Nodes can also be added and removed at the tree level: mtree.add(parent,nodes) allows adding a list of nodes to a parent node and mtree.remove(nodes) removes the specified nodes.
In order to programmatically collapse and expand nodes, use mtree.collapse(node) and mtree.expand(node).
Nodes can be programmatically selected using mtree.setSelectedNode(node). Multiple nodes may be selected using mtree.setSelectedNodes, if an earlier call to mtree.setMultipleSelectionEnabled(true) was made (default is multiple-selection disabled):
mtree.

setSelectedNode

(

root

)

;  

% root is a node


mtree.

setSelectedNodes

(

[

root,node1,node2

]

)

;  

% select 3 nodes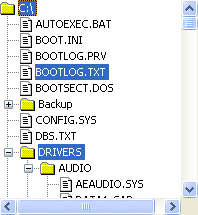 The currently-selected node(s) can be accessed using mtree.
getSelectedNodes
. Node selection callbacks often require knowledge of the currently selected rows:
% Tree set up


mtree = uitree

(

...

, 

'SelectionChangeFcn'

,@mySelectFcn

)

;


set

(

mtree, 

'SelectionChangeFcn'

,@mySelectFcn

)

; 

% an alternative




% The tree-node selection callback




function

 nodes = mySelectFcn

(

tree, value

)


    selectedNodes = tree.

getSelectedNodes

;
    

if

 ~isempty

(

selectedNodes

)


        

% ...


    

end




end

  

% mySelectFcn
Interested readers might also benefit from looking at the tree manipulations that I have programmed in my FindJObj utility.
Next week's article will show how uitrees can be customized. There are numerous possible customizations, including icons, labels, appearance, and behavior. So if you have any special request, please post a comment below.